2 tags
MIO
Mikko's Log, entry 123bc-tr21:  We leave planet Milo's orbit, and continue our journey towards Earth a little bit disappointed. According to our guide book, Milo was supposed to be filled with marvelous seas, but they were all BENEATH the frozen surface of the planet. How where we supposed to know that? On the bright side of things we were extremly successful at our attempts of...
3 tags
Leaving Planet Jörg
A ship set out that morning from planet Jörg, before the pale light of their star could rise on the horizon. It was the first clear morning in a long time. The blizzards had stopped for the time being and the icy expanses of the Northern Plains glittered from the reflections of the millions of stars setting in early morning light.        The ship known as the Tikka 1, was manned by a crew of seven...
Where is planet Jörg?
We have a lot to report from Team Jörgits.  Work is progressing on many fronts. But before I get into that, I would like to ask the Astronomers in my backer community for some help. Can anyone propose a plausible home planet for Planet Jörg?  It should have many of Earth's qualities with the difference that it's next to a star that is dying. It can be significantly bigger than earth...
Last Night of the Campaign
We're drawing up a storm, stay up with us and watch us go the distance.  Here are some of the drawings we've come up with just today alone. 
Helsinki
One of the main inspirations for the Jörgits, is the city of Helsinki.  It's just beautiful.  Over a period of four years I've been traveling back here to write and gather material for the book.  Each time, I spend hours just walking through the city taking pictures of my favorite buildings and landscapes.  I use them as reference imagery when I'm drawing but also to get in the...
The Stencils are here!
We finally got some samples of the stencils and they are awesome!  More are on the way, this is not the complete set.  Get yours today!
5 tags
New Kickstarter Rewards!
Toy Design Workshop Things are heating up! We added two new rewards categories today.  The first is the Toy Design Workshop.  I've been running the Toylab for the past three years now at the Srishti School of Art and Design in Bangalore.  We make some pretty cool stuff.  If you have a design firm or an interested group of friends this might be the reward for you. For two days I will teach...
5 tags
New Kickstarter Rewards!
Toy Design Workshop Things are heating up! We added two new rewards categories today.  The first is the Toy Design Workshop.  I've been running the Toylab for the past three years now at the Srishti School of Art and Design in Bangalore.  We make some pretty cool stuff.  If you have a design firm or an interested group of friends this might be the reward for you. For two days I will teach...
Girl Power!
During the summer my family usually spent our vacation in the middle of Finland where my parents where from. My sisters and I didn't have many friends there, so the three of us spent a lot of time together. Our play tended to focus on storytelling and imaginative play.  My older sister, Joanna would sometimes tell stories that she illustrated on the fly. She expertly wove her stories...
6 tags
An old fashioned adventure with a twist: Global...
Growing up I was voracious reader of adventure novels and comics; 20,000 Leagues Underneath the Sea, Lord of the Rings, The Count of Monte Cristo, the Three Musketeers, Tintin, Asterix, Blueberry, you name it I read it.  My own novel, Jörgits and the End of Winter bares a strong resemblance to the classic adventure novel; it's about exploring the unknown, uncovering hidden plots, fighting...
Summers with the Jellyfish
Today we're proud to share with you another track from Jörgits and the End of Winter. This track was especially designed for the underwater soundscape that is featured in the video.  You can download it here!  Get ready for a fun week of updates, the Jörgits are traveling to France!  Get fashion tips from Jenny and Timpa! and learn to cook with Pekka! If you aren't yet following...
5 tags
How I became an Illustrator
Today I want to tell you the story of how a toy became a cartoon that became a book, and then became an app and how we got here. This is a story serendipity, perseverence and how believing you can do something can make it come true, it's also the story of how this Kickstarter came to be. The original Jörgits The story began four years ago when I first shared some of the writing and...
5 tags
Sneak Preview of Chapter 1 - The Crash
This morning Tank & Bear is excited to offer you a draft of Chapter 1 – The Crash, from Jörgits and the End of Winter.  The draft contains only the text, for the full experience you have to wait for the app!  We have included The guide to Jörgit Eye Colors and What they Signify, since it is specifically mentioned in one of the footnotes.   Please let us know what you think of this first...
5 tags
Improving the Reading Experience on the iPad
Sidenotes or footnotes? I've never been a big fan of footnotes in non-fiction, but I love them in fiction. In one of my favorite novels, The House of Leaves an extensive parallel narrative takes place in the footnotes. In the Moomin Troll series by Toove Jansson, footnotes are used to give fun facts to the reader from the author. The care put into Jansson's footnotes is amazing and it...
The Helsinki City Map
I wanted to write a bit about the Helsinki City Map that I've created for the novel.  It's was drawn and designed over a three week period.  First I needed to decide on a perspective. My sister Eliza, had drawn quick sketch once of a orthographic view of the city.  I decided on that as a starting point. Then I began to sketch the underlay. I started with paper and pen, but it turned...
Watch
We're up and running with our first Kickstarter. Here's the video that I was mentioning in my earlier post. It took a very long time to produce, but it's up an running.  TJ our camera man is probably the most patient soul I've ever met, staying calm after I fumbled my lines for the 25th time, and Team Octopus kept me in good spirits with their positivity and constant...
Kickstarter Preparations
We've been working on creating Kickstarter campaign for the last couple of weeks. It's been quite a challenging ride.  I suddenly felt like I was back in graduate school, working 12 hours a day learning a bunch of new skills to accomplish a project(acting, directing, editing you name it). But I somehow made it through with a number of great friends and colleagues helping me along the...
Watch
GIRL POWER TRIUMPHS Jörgit's editor, Marilyn Fu, successfully meets her Kickstarter Goal for her movie the Sisterhood. If you haven't yet seen their pitch. Have a look at it and please pledge! More money will mean a better movie. 
Innovation in Scrolling →
I'm always looking for a new ways to present content digitally.  Multitouch interfaces along with the rapid adaption of HMTL 5 with CSS3 is really helping web design improve leaps and bounds.  Have a look at Graphic Designer Frank Chimero's site. Now if there were only more really good inexpensive web fonts out there we'd also see a marked improvement in web typography. Hint,...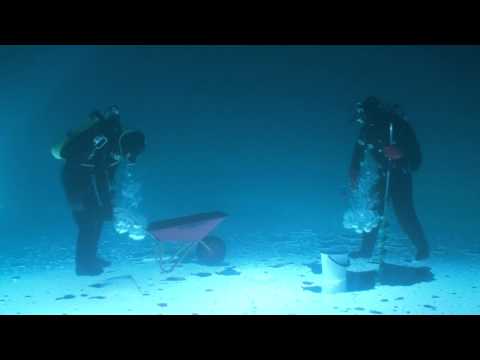 Watch
Lego Assembly of the Millennium Falcon
Watch
Perfect day to resurrect the blog. Tank & Bear's first app Khoya just went up on TED.  Shilo Suleman, one of the artists behind Khoya, demo's the app, and talks about her inspirations behind the design and the story.
4 tags
Back From the Dead
I'm resurrecting my Everything Toys Blog in preparation for getting a proper blog template built for Tank & Bear.  Everything Toys will now move away from being the Toy Lab Blog to becoming the blog for things related to Toy Design, Children's Media, Music, Animation, in short everything yours truly enjoys and are thinking about at the moment.  The Toy Lab is moving towards having...
Last Minute Preparations
As usual work on the exhibit right up until the last minute.  But in the end everything came together quite nicely. Mr Venkat, Jacksson, Aditi, Dhruv, and MG. Dhruv holding the ladder. The Green Chakras installing our sign.
Day 3: The Night Grows Longer
It's 11.30 PM, the night before our big exhibit.  The nights grow increasingly longer as we get closer to the exhibit.  Last night we left at 1 AM, tonight we are probably leaving at the same time or later.  Fortunately we're down to working on details rather than major exhibit elements.  Everybody has worked extremely hard to get to where we are tonight. I honestly think that...
Sketch Models
My team have a fondness for creating quick sketch models when ideating for the space.  It's a fast way to see how ideas may actually work in the space.  These are very low fidelity but it's interesting non the less how much they can communicate internally to a team that is trying to come up with a design.  
New Round of Exhibit Design
We officially kicked off a new round of exhibit design yesterday.  I served up some mood boards as usual, and created a list of design criteria for our exhibit.  Today we visited our exhibit space to begin planning in earnest.  Tomorrow we start designing elements for the space. We'll be exhibiting at 1 Shanthi Road Gallery on April 16th and 17th.
Group Critiques
We're into the final stretch of the product development phase.  Everybody is busy working on their final art work and working with vendors to get things produced.  This is last five percent of the project that is excruciatingly hard for most people to do well. Stress and fatigue sets in.  You're more likely to cut corners to get the job done and you begin to make bad decisions...